Labcodes Named Top Developer in Brazil
At Labcodes Software Studio, we supply world-class development, and we have vast experience in designing, building and scaling quality digital products. We deliver great experiences and build web applications that fit customers' needs using Python, Django and React.
We've been partnering with companies in the US for more than 5 years, and we are excited to continue our success with new and challenging projects. On our team, we have many different talents. Designers, Frontend and Backend Developers. We have all the tools at our disposal, so you can focus on what matters to you the most.
Our developers are widely experienced in the Agile project methodology and API design. They're talented and recognized worldwide, giving talks and mentoring people.
In light of our achievements, we've been recognized by Clutch, as a top development leader among Brazilian companies. This award is dedicated to our valued customers, who took the time to participate in important client interviews to discuss our contributions to their businesses. In reflection of those sentiments, we've been awarded 4.8/5-stars!
We're excited to keep the momentum going and make even more software dreams come true. Below is a recent review, provided by Clutch: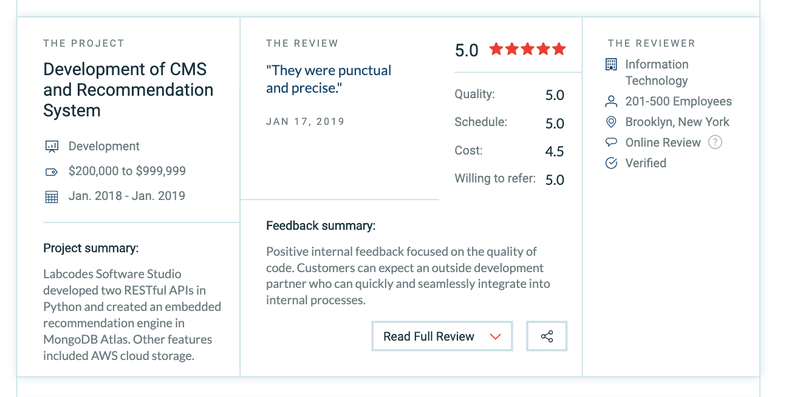 Clutch is a B2B reviews platform that has a unique rating methodology to compare businesses alongside one another. The Manifest, Clutch's sister site, is a valuable business data resource. The Manifest's rankings list us as a top development leader, which means a lot to us! Visual Objects, Clutch's new sister site is a great place to view any business' past visual portfolio and is yet another platform that can be used as a tool in discovering an appropriate vendor.
Once again, thank you to our valuable clients for helping us achieve this award. For potential clients, feel free to contact us to discuss how we can help make your software dreams a reality!